Did you know that a refrigerator that's more than 15 years old can weigh up to 250 pounds? Thankfully, newer models are much lighter. Today's refrigerator typically weighs around 200 pounds, depending on the size and style. However, there are some refrigerators that weigh up to 800 pounds, like the Sub-Zero fridge.
Most of the weight of a refrigerator is due to the heat pump that provides cooling by removing heat from the device. Actually, to prevent your food from spoiling, the heat pump needs to maintain the fridge temperature between 37°F and 41°F.
Another factor that affects the weight is the type of material the refrigerator is made of. For instance, a fridge can be made of stainless steel, plastic, or other types of insulating material. Obviously, stainless steel weighs a lot more than plastic.
Brief History of Refrigerators
Prior to the invention of the refrigerator in 1913, ice boxes and ice houses were used. In fact, they are still used in some parts of the world. In addition, many people use coolers or ice boxes when they go camping.
According to Wikipedia, the first residential refrigerators that were a popular consumer item were
1913 – A device that was mounted on top of the ice box invented by Fred W. Wolf of Fort Wayne, Indiana.
1914 – An electrical unit (the base for the Kelvinator) made by Nathaniel B. Wales of Detroit, Michigan.
1916 – A self-contained refrigerator, with a compressor on the bottom, developed by Alfred Mellowes. In 1918, this model was bought out by William C. Durant who launched the Frigidaire Company to manufacture refrigerators.
1922 – The introduction of the absorption fridge that utilizes two coolants, developed by Carl Munters and Baltzar von Platen from Sweden. This model was later commercialized by Electrolux.
1927 –The first extensive use of a fridge created General Electric "Monitor-Top". This model was placed above the cabinet because it released a lot of heat. In result, the cooling was very effective.
Through the years the fridge has gone through many transformations. It wasn't until the 1950s and 1960s that the device had automatic defrosting and automatic ice making.. Actually, the more efficient units weren't developed until the 1970s and 1980s.
Why is Refrigerator Weight Important?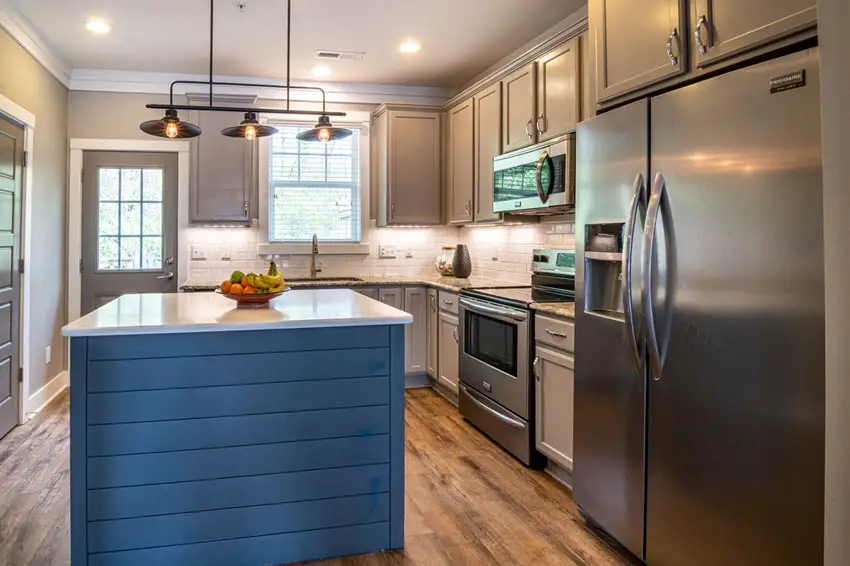 When shopping for a refrigerator, it is important to make sure that you find the ideal unit that matches your lifestyle. For instance, the features of your refrigerator needs to coincide with way of life such as freezer space, accessories like ice making or large vegetable containers, well-organized door compartments, and other features that suit your needs.
A refrigerator is one of the heaviest appliances in your home. In fact, weight can play a big factor when deciding what model to choose. Not only will it make a big difference in the cost of installation but placing the fridge properly in the kitchen can sometimes be a challenge.
In addition, the weight of a refrigerator can vary depending on the style. A full size fridge typically weighs between 200 and 400 pounds (90 and 181 kg) making the average weight slightly under 300 pounds. However, many newer models only weigh around 220 pounds (100 kg). An even lighter model is the 3/4 size refrigerator and mini fridges that weigh 40 to 60 pounds (18 to 28 kg). Additionally, side-by-side and French-door fridges typically weigh between 250 and 350 pounds (113 and 158 kg).
While a 40-year-old Whirlpool top freezer refrigerator will likely weigh more than a newer top freezer fridge, other Whirlpool refrigerator models may outweigh older units because of all the accessories that weren't available on older refrigerators.
On the same note, a 50 year old top freezer refrigerator will probably weigh more than a newer top freezer fridge. However, a newer model can actually weigh more than an older version due to styles such as French doors or extra accessories. Keep in mind, accessories add weight to a unit – older models did not have accessories or extra compartments on the door. To be honest, I personally I like my accessories such as extra ice during hot summer months.
When it comes to moving a refrigerator into a new home, 50 pounds can make a big difference. For the most part, the more accessories you have the more your fridge will weigh. Overall, it is generally best to select the ideal fridge that suits your style of living. Determining the best fridge to fit your needs depends on your family's shopping and eating habits. Refrigerator capacity is measured in four categories – fresh food storage, creative storage, overall space, and freezer storage.
Calculating the Approximate Weight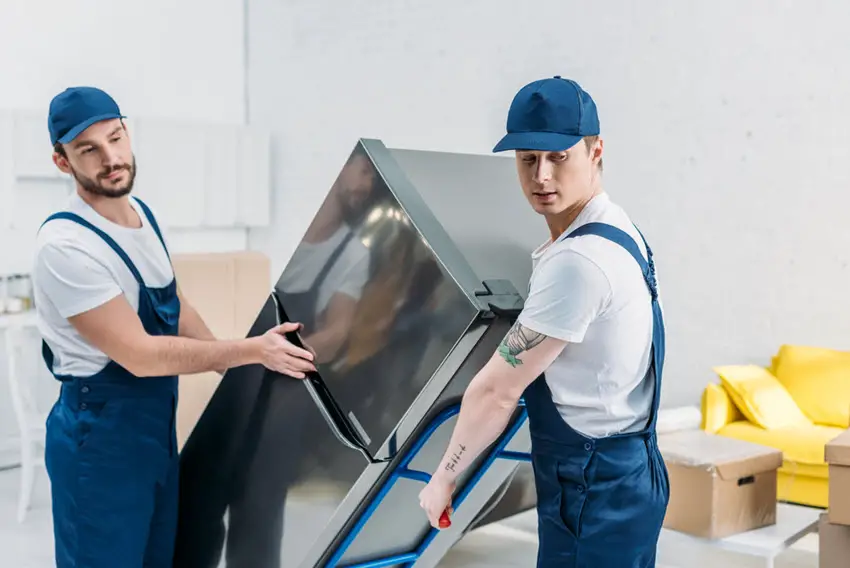 The weight of a typical refrigerator can easily be calculated. Simply calculate a little more than 10 pounds (4.5 kg) per cubic foot. For example, a fridge that is 10 cubic feet will weigh slightly over 100 pounds (45 kg). Keep in mind; this does not include the weight of accessories or special style like French doors. Nevertheless, this does not pertain to fridges that are over 20 cubic feet. For instance, two door and French door are generally 25 cubic foot. The least amount these models weigh is around 250 pounds (113 kg) but they actually can weigh up to 320 pounds (145 kg).
Typical Weight of Certain Models
Quite clearly, the weight of a fridge will depend on the model and style. However, there are particular models that stay within a certain weight. This is a great help when choosing a refrigerator for your home.
Whether you are in search of a full size or 3/4 size refrigerator for your home, here is a small guideline that can help you decide which fridge will best suit your needs –
Samsung 24.6 cu. ft. French Door Refrigerator in Fingerprint Resistant Black Stainless
This Samsung refrigerator weight is 308 pounds
Depth of 35 inches
Height of 70 inches
Width of 35 inches
Samsung 28 cu. ft. 4-Door French Door Refrigerator in Fingerprint Resistant Stainless Steel
This Samsung fridge weight is 374 pounds
Depth of 37 inches
Height of 70 inches
Width of 36 inches
Whirlpool 25 cu. ft. French Door Fingerprint Resistant Stainless Steel
This Whirlpool refrigerator weight is 336 pounds
Depth of 35 inches
Height of 71 inches
Width of 35 inches
LG Electronics' 26.2 cu. ft. French Door Smart Refrigerator with Wi-Fi Enabled in Stainless Steel
This LG Electronics' refrigerator weight is 284 pounds
Depth of 32 inches
Height of 68 inches
Width of 36 inches
Summary
Today you can find a wide array of refrigerators to fit the needs of your lifestyle. When it comes to selecting the ideal device, you will have many options in weight, style, models, and accessories. Compared to just a few decades ago, the refrigerator has greatly advanced, making it easy to select the ideal appliance for your home or office.