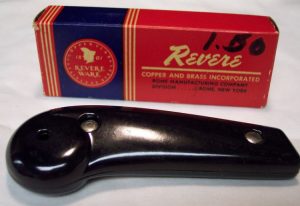 The Revere Ware line of kitchenware was launched in the late 1930s and is renowned for its quality tea kettles, pots, pans, and skillets. By the 1960s, changes were being made to Revere Ware production that ultimately resulted in lower profit margins and cost-cutting measures. In the 1980s, the line was sold to Corning Glass Inc, and then again to World Kitchen in 1998. As a result of these acquisitions and mergers, the Revere Ware line expanded dramatically to include additional products, such as copper-cored stainless steel, copper-clad bottomed cookware, and anodized non-stick aluminum.
Where to Find Replacement Parts:  Amazon or Ebay
In contrast to many companies that embrace a "throw-away" mentality, resulting in broken cookware simply being discarded, Revere Ware historically took a great deal of pride in ensuring its products were built to last. Similarly, many Revere Ware cookware owners take pride in using their products for years, and sometimes even passing their Revere Ware cookware collection down to their children. Because Revere Ware is built to stand the test of time, cookware enthusiasts often retain their Revere Ware collection for decades, if not longer. However, with time and extensive use, many products will eventually need replacement parts in order to continue functioning at the optimal level.
Loyal Revere Ware customers often seek the replacement parts necessary to continue enjoying their products for generations to come. In addition, collectors of vintage Revere Ware products (manufactured prior to 1968) seek quality vintage replacement parts for items they find at auction or through antique retailers. Commonly-ordered replacement parts for Revere Ware cookware are for the company's tea kettles, pressure cookers, percolators and drip coffee makers, dutch ovens, and lids.
Revere Ware Tea Kettle Replacement Parts
Teakettles are a popular item and many Revere Ware tea kettle owners continue to use the teakettle they or their parents purchased when first starting out. Although teakettles tend to last for decades with minimal needs for repair, some owners find that the teakettle's lids or handles require replacement after years of consistent use. Unfortunately, these parts can be difficult to find, so many owners resort to purchasing another vintage teakettle to use for replacement parts, rather than purchase an entirely new teakettle.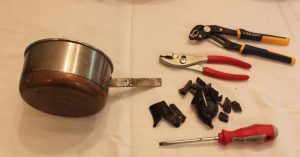 Revere Ware Pressure Cooker Replacement Parts
The most commonly-sought after replacement parts for Revere Ware pressure cookers are gaskets for Revere Ware's vintage four-quart pressure cookers and pressure cooker models produced in the 1970s. Although these gaskets are readily available, other pressure cooker parts, such as lids, gauges, plugs, and weighted knobs, are more difficult to find.
Revere Ware Percolator and Drip Coffee Maker Replacement Parts
It is not difficult to find replacement glass knobs for percolator lids, but other parts – like handles, baskets, and stems – can be difficult to find for purchase. For these parts, consumers may need to purchase a vintage percolator or drip coffee maker of the same model and use its parts to fix their current item.
Revere Ware Dutch Oven Replacement Parts
Frequently, customers seek replacement dutch oven lid knobs and replacement handle pairs for their newer or vintage dutch ovens. These knobs and handles are comparatively easy and inexpensive to purchase online.
Revere Ware Lid Replacement Parts
Pots aren't quite as useful without their lids, and their lids aren't quite as useful without a knob! Nearly-universal replacement lid knobs are available for purchase online. Customers are advised to please keep the original screw, as replacement knobs typically do not come with them. Of course, individuals may purchase new or vintage lids if the lid itself has broken or become misplaced.
Although Revere Ware stopped producing replacement parts in the late 1980s, consumers are able to locate what they need online, through companies like RevereWareParts.com and classickitchensandmore.com, or purchase used or new replacement parts on websites like eBay, Amazon, and CraigsList. For example, Revereware.org is a seller of Revere Ware replacement parts on eBay. If unable to find replacement parts, individuals may also purchase pre-owned items on some of these websites, or at brick-and-mortar antique and consignment shops, in order to use them for parts to repair their currently-owned items. For vintage items unable to be repaired, consumers may be able to purchase refurbished Revere Ware cookware online, via sites like RevereWareParts.com.
Revere Ware cookware is a time-tested brand of quality, durable cookware. Vintage Revere Ware cookware products were built to last. As a result, there are products that are 30, 40 or even 50 years old that are still used daily in thousands of homes nationwide. These items occasionally require fixing or replacement parts in order to keep functioning. Although it can seem simpler (and even sometimes cheaper) to replace broken, vintage cookware with brand-new, updated cookware, Revere Ware customers know that the value of their vintage cookware exceeds the worth of much of what can be purchased new. With a few dollars, one can buy a new set of handles for their dutch oven, a new knob for their lid, or a new gasket for their pressure cooker, and extend the life of their vintage cookware by decades.
The nearly 100-year-old line of Revere Ware products has held a unique place in American homes and families. With products being able to last for generations, grandchildren may be using their grandmother's teakettle to make their own children a cup of tea. The quality of the company's early products was impressive and is visible even today. Although the brand has gone through a number of changes in the past 40 years that resulted in products that are not necessarily as sturdy as the prior incarnations, loyal customers continue to care for and fix their beloved cookware from decades ago. The availability of new and vintage parts online makes it possible for these cookware owners to repair, instead of replacing, their favorite Revere Ware products. Companies such as Revere Ware Parts, and websites like Amazon and eBay, make it possible for individuals to locate the parts they are looking for their vintage Revere Ware cookware.