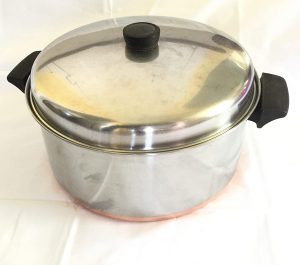 Revere Ware is one of the brands that home cooks hold in high regard and for good reason. A Revere Ware dutch oven purchased decades ago is likely to have been passed down through a family for generations.
At least, that's my story. When my grandmother died several years ago, I knew that there were a few things that I wanted as keepsakes. Other things aside, I had my eye on her Revere Ware dutch oven which had been a staple in her kitchen all of my life.
Even when I still needed a footstool to see what she was doing my grandmother was teaching me how to cook. She had a story for many of the things in her kitchen. A pair of hot plates that my grandfather brought her home from Japan after World War II. The tea set she only brought out for special occasions that had been her grandmother's wedding gift.
The Revere Ware dutch oven had been a wedding gift from her own mother in the 1940s. I knew I was in for a fight for the piece when I brought it up to my mother, but in the end, the dutch oven was mine. Well, mostly mine. I share custody with my mother during the holidays when we're making big family meals as a way to keep my grandmother part of our celebrations.
Check Revere Ware Dutch Oven Price on Amazon
History of Revere Ware
Revere Ware is a cookware brand produced by Revere Copper and Brass, Inc. with a long history. Revere Copper and Brass dates all the way back to 1801 and was founded by Paul Revere (yes, the Paul Revere) and was originally known for an innovative copper rolling process that revolutionized the industry. The first cookware products were introduced in 1939 and have been staples in home and commercial kitchens in the 80 years since. Revere Ware is popular because it is well made and long-lasting with some vintage pieces still in regular use upwards of 60 years after production.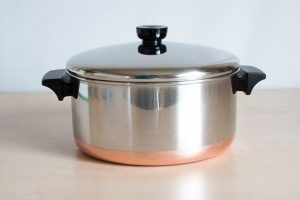 The company was best known for sturdy stainless steel copper bottom skillets and dutch ovens which are prized even now for long lasting durability. Despite issues with the Bakelite handles early on in production the company modified the design and mailed replacement fittings to all customers free of charge.
Revere Ware was especially popular in the '40s and '50s. Demand declined in the 1960s as Teflon grew in popularity. It was impossible to bind Teflon to stainless steel so the company was forced to find alternative solutions but they came late to the market and suffered sales losses as a result.
Revere Ware's parent company, unfortunately, went bankrupt and stopped offering replacement parts. The brand was acquired by World Kitchen, LLC in 1998, but the newer product lines lack the quality that the brand has always been known for.
Where to Buy Revere Ware
Vintage cookware can be found in many places. eBay is the best online shopping resource for vintage pieces. Etsy and the Amazon seller marketplace are also good places to check. All of these websites rely on the sellers to provide accurate information about the product, however, which may result in inaccurate details. There are private dealers online that specialize in Revere Ware and offer satisfaction guarantees for the pieces that they sell. A knowledgeable seller will be best able to provide extensive knowledge about the product in question. A reputable dealer will provide the most accurate information and is less likely to be intentionally misleading.
Offline shopping is more difficult. Check out local antique dealers or specialty shops. If you have a good idea of what you are looking for then asking the owners of these stores can probably provide you with a good idea of where you might be able to buy locally. Flea markets can sometimes be a gold mine for such things as well.
Although newly produced lines are considered to be subpar compared to vintage pieces, current generation Revere Ware is available at Wal-mart, Target, and through the World Kitchen website.
Replacement Parts for Vintage Revere Ware
Purchasing parts for vintage Revere Ware can be difficult. Early pieces' handles were fragile and prone to breaking. While damaged fixtures were replaced by the company, this practice ceased in 1989. There are many Revere Ware specialized dealers online that sell replacement hardware.
To ensure that the correct parts are purchased it is necessary to know what line of Revere Ware that you are trying to repair. As the line was produced for many decades it may be difficult to determine the specific type of piece. Resources can be found online to help in identification. Details such as the size of the piece, identifying markings such as the logo and information found on the pot itself, and coloration can all be used to pinpoint a specific line. Don't be afraid to reach out to a Revere Ware dealer online if you have questions. A reputable dealer will be able to answer your questions.
Conclusion
Revere Ware is a vintage cookware line that, if taken care of, has proven to withstand the test of time and can continue to provide years and years of use. Picking up a vintage piece or two at a good deal whether at a local antique market or at an online retailer is a great idea and will prove to be worth the investment. Even a piece that has damage handles can be easily repaired by purchasing replacement parts online as the repair work itself is easy and does not require specialized tools.
Revere Ware has a long history. My family has a story built into a piece, as many families do. With something as sturdy and reliable as the line has proven to be it is feasible that I will pass on my grandmother's dutch oven to my children, continuing that story and keeping our tradition of cooking and family alive.